Understand. Take Action. Reduce Stress.
Your credit determines your financial life... your credit score is used by lenders almost exclusively to determine what you will pay for a loan.
It doesn't matter if you have money in the bank or a well-paying job.
If your credit score isn't excellent then you will pay a huge penalty on a mortgage, refinance, auto loan, credit cards, or any other type of loan.
How much more? Take a look to the right.
About The Credit Solution Program
Mike Roberts is the founder of the Credit Solution Program. He has seen how important understanding credit has been in improving his own life. And because of this Mike has dedicated himself to teaching others how to improve their lives by raising their credit score and taking control of their personal finances.
The Credit Solution Program is a unique system that aims to educate with engaging videos that are both informative and fun to watch. The content on the site and in CSP products is created by Mike Roberts and a team of subject matter experts.
We hope that you enjoy learning here.
Good Credit Can
Help You Save Money
Over your lifetime the cost of higher interest rates can really add up.
That's money paid out to lenders that you could use to live a better life – take more vacations, cover college education costs for your children, live in a bigger house, drive a nicer car, or invest the savings for retirement.
And it's even worse if you have bad credit, considered by lenders to be anything below 620. It's extremely difficult to get a mortgage, car loan, or a credit card at all with a credit score below this mark.
Luckily there are steps you can take to improve your credit – and in many cases improvement can be seen relatively quickly3 when you have the right education to guide you.
What Steps Will You Take With The Credit Solution Program?
So, the 1st step is awareness – take stock of your current credit situation, and this means understanding everything that's on your credit reports today. You may be surprised at what you find. Now, once you know what is on your credit report, the question is… why does it matter? And more importantly, what can be done to have the biggest impact on your score right now?
You'll learn how to interpret the 5 factors that affect your score. To see what's holding you back from having the highest possible score, you need to know how credit scoring works. Are you doing the right things to improve your score and keep your credit score high in the future?
Finally, you have to understand how to deal with any problems on your credit report. What kind of problems? Negative items like inquires, late payments, collections accounts, judgments, or even bankruptcy.
These may be reported in error. You'll learn how to approach each negative mark based on your own report.
What Happens When You Follow
The Credit Solution Program?
We train you on the
importance of credit.
Here we lay the foundation, so that you have the proper mindset to continue. This is not just about money either, employers, landlords, and insurance companies all use your credit score to make decisions that can have a big impact on your life.3, 4, 5
According to MSN Money personal finance columnist Liz Pulliam Weston in her 2011 National Best Seller "Your Credit Score" – a series of small mistakes with credit can add up to $2M due to high interest rates over a lifetime.
And there is more that happens once you really understand what a great score is worth.
Understand what factors affect your score
Do you know all the factors that go into calculating a credit score? When you understand the 5 factors that are used to determine your score, you are instantly able to begin working on each to improve your score.*
Most people with great credit have no idea how it got that way. So even if you have great credit already, this is a lesson you will not want to miss if you plan on keeping your credit high in the future.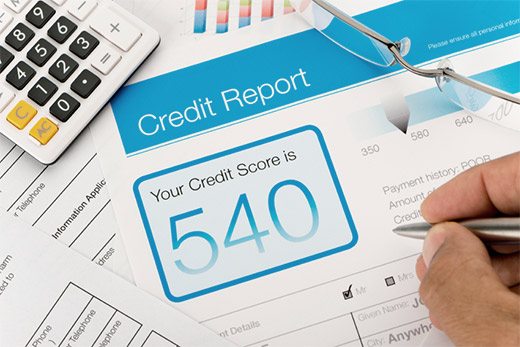 Learn to
interpret

your credit report

You will learn where to get your credit reports and scores online, and how to understand each section of your report.

We will walk you through an exercise to classify any negative items according to the CSP system. This provides the framework from which you will form a personalized action plan.

Many people are confused about how to understand each section of a credit report. It's no surprise really… did you know that if you have a lengthy credit history, your report can be over 20 pages long?

Understanding how to interpret all of this information about you is the first step toward improving it.
Regain control

over your finances

In the past 3 years, we have provided education to over 1.2 million people about credit and financial health topics. Over that time, we have received many tens of thousands of blog comments and support emails from visitors to this site. Because of this, we have an in depth understanding of the variety of problems that you may be facing with your credit.

Find out how to deal with late payments or accounts that have gone to collections. You will learn how to evaluate your options for any debts that you have outstanding, and how each choice may affect your credit score. You'll also learn what actions are the most important if you want to qualify for a loan in the near future.
Shape your actions to
keep your score up
It's frustrating to most people when they find out that just paying bills on time is not enough to insure that you will have an excellent credit rating. The credit scoring model is looking for a responsible use of credit, and while paying bills on time is a big part of that – it's not enough.
What is the proper way to structure your credit history going forward?
Yes, in order to have the highest possible score, you have to actually plan out a strategy that the credit scoring model views as low risk. This means having the right number of credit cards and mix of credit types. We'll show you how to use your credit effectively in order to score well.
Three Great Ways to Engage
Our Followers and Customers Say It All...
"Thank You"
I have been reading all of the newsletters... I have recently gotten rid of a bad credit report by following your advice and have a lot more work to do. Thank You.*

* There's no guarantee of specific results. Results may vary.

David Runco

Panama City, Panama
"I started with a score of 570...I have a new score of a 640"
Well for me I have disregarded my credit. I didn't think that it was important and now that I have had some education I have decided to start to look at it. Since 2010 I have a new out look on this matter. I heard about this program so now all of my focus is on it. I started with a score of 570 and with this program I have a new score of a 640. I had done some things to contest some things on my credit and got them overturned. So now this is my plan to continue to focus on this matter. Thanks Again.*

* There's no guarantee of specific results. Results may vary.

Michael Cobb

Hoodriver, Oregon
"726 and Rising!"
I look forward to your Credit Solution Newsletter! Using your techniques I have gone from a score below 680 to 726 and rising! Buying your Plan and implementing it has helped me focus on the important things that affect my Credit Scores! You and your Program are AWESOME! Keep those tips coming! And may you and yours have a Wonderful Holiday Season and a Prosperous New Year!*

* There's no guarantee of specific results. Results may vary.

Stephen Adams

Idaho Falls, Idaho
"My Conscience Is CLEAR"
I was about to pay off some very old delinquent accounts when I decided to read some of your tips before doing so. I learned that they are UNCOLLECTIBLE according to the law, paying those would be a waste of hard earned money and would not help my credit score. Since they are from a predatory payday lender where I had already paid the original loan amount X2 in less than a year, my conscience is CLEAR!*

* There's no guarantee of specific results. Results may vary.

Roel Cantu
"We Are Building A House"
I sent the verification letter with the Wollman letter. This is a total of over $7,000 removed...I went from a 588 on June 15th to a 716 currently and we are building a house now.*

* There's no guarantee of specific results. Results may vary.

Arvis M.

Dallas, Texas
"I didn't know it was as easy as it was."
I have paid off 18,000 dollars in credit card debt for nearly half of the original debt. I was able to negotiate my interest and monthly payments…I didn't know it was as easy as it was. Creditors aren't all bad, I owed the money, I bought the products... When I realized I was in over my head most of them were more than willing to help, but I never knew it was possible until I read it here first! Thank you for your service.*

* There's no guarantee of specific results. Results may vary.

Sheila Chapman

Memphis, Tennessee
"From 536 to 638 In Less Than One Year"
I appreciate the knowledge you pass along. I've managed to get my FICO score from 536 to 638 in less than one year. I have only one negative item left on my credit and it will be paid off in the next 4 months (tax refund). I love that your emails keep my credit in the forefront of my mind. Also your tips & information have helped me take my savings from non-existent to over 4,000 in less than 6 months... Thanks again for all you've done and continue to do!*

* There's no guarantee of specific results. Results may vary.

Jeremy Morgan

Phoenix, Arizona
"I will be out of credit card debt in two weeks!"
Your Credit Solution Program is a heaven sent blessing. I will be out of credit card debt in two weeks! YAY!!!! In addition, the Credit Solution Program taught me strategies on how to eliminate debt. The debt validation letters are very effective... The Credit Solution Program has made 2014 a year of progress for me and 2015 will be the year that my credit will be excellent. This program has educated me on finances and how credit works. Now, I'm helping someone with their credit reports. It's a great feeling.*

* There's no guarantee of specific results. Results may vary.

Joseph Anthony Neal

Hartford, Alabama
"Able To Buy A House With A No Money Down"
To make a very long story short, we lost our place to a predatory lender through no fault of our own. We lost 2 houses on 2 acres where we lived for a very long rime; lost about 1/3 of our income, ended up nearly on the street with not enough money for rent. We had not had any credit cards for years, so all we had was what we were left with; we had to eat from the food bank and do without a lot. Within 4 years, we had so many blessings that we were able to buy a house on VA loan with no money down and a payment we could afford. It has been a great blessing to read your emails. Thank you for all your info.*

* There's no guarantee of specific results. Results may vary.

Mary Smith

Estacada, Oregon
"The Awareness is Amazing"
Your newsletters have been wonderful; the awareness amazing. I now keep abreast of my scores and credit report daily.*

* There's no guarantee of specific results. Results may vary.

Paula Patterson

Hamlet, North Carolina
"A Tremendous Help"
Your program has been a tremendous help…from watching our credit scores to handling old accounts…your information and sample letters did the trick…thanks again for all you do.*

* There's no guarantee of specific results. Results may vary.

Ralph Morren

Austin, Texas
"590 to 795"
I have done a lot of work on my own going from a 590 to 795 in two years but I still love getting your tips. I think it's great that you're spreading the news that this is important and within the power of people to better their financial future.*

* There's no guarantee of specific results. Results may vary.

Michael Cauchy

Oswego, New York
"I Got 12 Collections Off My Credit Report"
You have helped me learn about how credit works. I got 12 collections off my credit report & my score has gone up 20 points! I've also followed your advice on credit cards & savings! Thank you Mike!!!*

* There's no guarantee of specific results. Results may vary.

Deanna Moore

Trabuco Canyon, California
"Don't Stop!"
Thank You Mike Roberts, You are very inspiring! Your emails are valuable! Don't stop sending them! Thank You.*

* There's no guarantee of specific results. Results may vary.

Jefferson W.

Allen Park, Michigan
"You Have All Made My Day"
Following your agency's advice & with the help of a gentleman helping me stay in my house, I have had my credit score bump up 20 plus points. Thank You to the entire Support Team for the world class customer service. You all have made my day.*

* There's no guarantee of specific results. Results may vary.

Casey H.

Glendale, Arizona
"520 to 605 in Three Months"
You've helped me tremendously. My score came up from 520 to 605 in three months. I still struggle in a few areas. However, I'm still working on it. Thank you for all that you do.*

* There's no guarantee of specific results. Results may vary.

Michael Smith

Bernice, Louisiana
"Credit Habits Have All Changed"
My spending, consolidating, and credit habits have all changed. I am getting back to feeling like I am not 90% under water.*

* There's no guarantee of specific results. Results may vary.

Stuart Michaels

Maplewood, New Jersey
"It Was Extremely Easy"
I used the Credit Solution to help me dispute some of the things and I got eight things taken off. It went up a hundred and two points in 2-3 months. I would describe it like this: I read what it said, I did what it said, and that was my result. It was extremely easy. It was clear. Every T was crossed and every I was dotted. It helped a lot because there are a lot of things about credit that I did not know. So reading that, it taught me a lot more so I can be more aware of my actions and how it affects my credit. For one, I didn't know that if you have a credit card, you have to keep it at 30% or less because of a higher credit point. I didn't know that. What else was it? About opening and closing an account, and how that negatively affects your account especially when it's by the bank instead of by you, that's even worse. Things like that that helped me to understand why my credit dropped so drastically.*

* There's no guarantee of specific results. Results may vary.

Carmelo D.

Coatesville, Pennsylvania
"Bite-Sized Doable Steps."
Your emails and information have really helped me think clearly about my credit score and given priceless insight for getting issues resolved. When my credit took a hit, due to unemployment, it seemed like an insurmountable mountain to climb. Your help allowed me to look at it in bite sized doable steps. Thank you very much. And please don't stop.*

* There's no guarantee of specific results. Results may vary.

HC Mackert

Gig Harbor, Washington
"Your Program Gave Me Hope"
First, your program gave me hope. I had sort of told myself that due to an uninsured child birth in 2008, and a failed business the following year, my credit was forever doomed. I didn't ever see myself qualifying for a credit card or loan. My parents were well off, so I depended on them to co-sign, or give me loans. Then they passed away, and I knew, independently, I was in big trouble. You educated me on how important credit really is (it affects not only your ability to borrow money, but your rates on insurance, even your ability to get a job!). You got me moving forward to find out what my reports actually looked like. I followed the steps in your introductory videos (marking up your credit report with negative, OK, good). I took your advice on the First Progress prepaid credit card (which was a great step to rebuilding credit). I received some extra income, and at that point I was unsure whether paying off old charged off debts would help or harm my credit, so I enlisted the help of Lexington Law. So far they have been able to remove 4 negatives (using your method of verification inquiry) in about 3 months. I just applied and was approved for a Chase card with a $3,500 line of credit (which should boost my score even more). I think my score was around 527 when I first started your program. Now it's about 650. I didn't do it alone, but your program helped me get the ball rolling, and gave me a much better understanding of how credit works.*

* There's no guarantee of specific results. Results may vary.

Jennifer Pfuhl

Hilton Head Island, South Carolina
"Keep Up The Good Work"
As a Realtor I have many clients with credit problems. I forward your information to them. Many have been able to qualify after following your excellent advice. Keep up the good work. God Bless.*

* There's no guarantee of specific results. Results may vary.

David Woodman

Woodbridge, Virginia
"A Better Understanding of How The System Works"
Thank you so much for this information you are providing to us. Not everyone is fortunate enough to have parents that can teach this, or do it so well, at any price. Life is not fair, and often not kind, but armed with a better understanding of how this system works, I am able to better defend myself.*

* There's no guarantee of specific results. Results may vary.

Katherine Sinclair

Anchorage, Alaska
"Thank You For Saving My Marriage of 24 Years"
Just want to send out a simple THANK YOU to Mike Roberts Credit Solution. Long story short all my life had a score on average of 820 then it seemed like over night it dropped to 560. Wow. How it changes everything right down to your banker of several years doesn't even say hi anymore when doing business in the bank. Lost my job of many years, had to sell the house, made some dumb decisions, and found myself in a hotel room using their wifi wanting to know what the hell just happened to me. And as I was signing up for Transunion, CreditKarma, and Experian Credit online I ran across your Credit Solution Program. Clicking on the link linking to your story I got hooked. I have all of your emails printed in a three-hole binder that I go back and refer to now and then. Times are still tough and still climbing out of this hole...but the thank you really is for saving my marriage of 24 years.*

* There's no guarantee of specific results. Results may vary.

Troy W.
"Thank You For Making This Kind of Help Affordable"
Thank you for making this kind of help affordable to folks who by definition have financial challenges. My story may not be as glamorous as some but you have helped nobody more than me. My life has been a wreck and full of turmoil and your book marked the beginning of the change I needed. I haven't finished it…although I follow it to the letter and stay mindful of info to come… Together, the book and the newsletter have: Kept me mindful of my goals, Made learning info thats necessary easy to understand, Helped me make educated financial decisions with purpose, Wipe a negative mark off of my credit report while settling a debt at the same time, and basically raised my spirits knowing I can fix this all by myself… I've recommended your book to lots of people I know because its worth every penny… thank you thank you again!!*

* There's no guarantee of specific results. Results may vary.

John Wilbanks

Savannah, Tennessee
"Wiped Out Over $23K In Bad Debt!"
Thanks for the constant reminders that "credit" is most integral part of our daily lives that we know the least about. Utilizing the information posted on your website and emailed to me, I have wiped out over $23K in bad debt! I have also increased my credit score by 43 points and continue the drive upwards. We appreciate you.*

* There's no guarantee of specific results. Results may vary.

John Sanders

Kenner, Louisiana
"Removed All Negatives"
I spent $600 on a firm in Southern CA who offered to handle my credit problems for me. They did nothing but take my money. So out of frustration I used the techniques in the Credit Solution Program. I contacted all my creditors, just like you advised and all of them promptly, after verification, removed all negatives and my report reflected it. Then, I employed the other suggestions. I won't bore you as you know what you recommend, but now my report by the Barclaycard credit card I received shows a FICO score of 749 and CapOne is TransUnion 671 and my bank shows my score in the mid 700s.*

* There's no guarantee of specific results. Results may vary.

Dale E.
"You Are Helping People To Change Their Lives"
Your program and emails have been a blessing to me! I went through a divorce a few years ago (23 year marriage) and lost a lot both emotionally, as well as financially. I got to a point in my life that I just didn't care about a lot of things, especially my finances. Well, as a result of not caring and the traumatic effect of the divorce, I ended up losing several rental houses due to foreclosure. Fast forward 2-3 years, when my head finally "got right" and I decided to pull up my boot straps and get off my pity pot…so I ordered all of my credit reports and you can imagine what a mess they were. Late payments, foreclosures, charge-offs, collections, judgments, etc…..the list goes on and on. I felt like there was no way I could do anything but wait out the remaining 7 years for all the baddies to disappear. But I was determined not to settle for this, so I started "googling" ways to repair my credit report and somehow ended up here. I've learned so much from your program and the daily emails. I've even started helping other people (free of charge) to educate themselves and show them how to do disputes of their own, as well as explaining how to get secured credit cards, fingerhut accounts, etc. to build up their credit scores while simultaneously removing derogatory marks from their credit reports. What I like to call the one-two punch. Anyways, sorry for such a long post, but I felt like it was my duty to let you know that what you're doing IS making positive changes in MANY people's lives, so please DO NOT STOP what you're doing. You are helping people to change their lives, as well as their financial outlook, one person at a time. Keep doing what you're doing, it IS making a difference!*

* There's no guarantee of specific results. Results may vary.

Rufus E.

Farmville, North Carolina
"Less than 2 weeks"
Mike I have been following your help and I am going to have say that in less than 2 weeks my credit report has gone from 555 to 589. That is only asking for the longer creditors, beyond 3 years old to be removed.*

* There's no guarantee of specific results. Results may vary.

John A.

Clover, South Carolina
"I Now Understand My Mistakes"
I have always known how important my credit The good thing about having understanding of how credit works (by you sharing your knowledge) has me made see things differently...Now by your guidance I now understand my mistakes.*

* There's no guarantee of specific results. Results may vary.

Miles S.

Waycross, Georgia
"Thank You For Helping Me Get My Life, Credit, and Finances Back in Order."
First and foremost thank you for helping me get my life, credit and finances back in order. I signed up quite some time ago and at first I was a little hesitant to even give it a try. However, I had no other options, and now one, maybe two yrs later my credit score is in the high 700's and I am much more careful of all my decisions concerning my finances, especially my credit. So thank you again, I can't begin to let you know how much your info has helped.*

* There's no guarantee of specific results. Results may vary.

Rick Llanes
"I have truly love receiving these emails."
I have truly love receiving these emails. I have been able to write result producing letters to help improve my credit I'm excited for more.*

* There's no guarantee of specific results. Results may vary.

Tawinde Smith

Philadelphia, Pennsylvania
"THANK YOU!!"
Hello, I purchased the Credit Solution Program a while back and my and my wife's credit score has increase appx. 170 points each, THANK YOU!!*

* There's no guarantee of specific results. Results may vary.

Phillip

Oyster Bay, New York
"I am learning so much"
I have learned a great deal and love getting all your emails and advice...keep em coming…I am learning so much from your expert advice & information.*

* There's no guarantee of specific results. Results may vary.

Andrea Edgeworth

Tijeras, New Mexico
"Thanking You For Guiding Me Step By Step"
It's Brindusa here thanking you for guiding me step by step. I took the bull by the front horns, I am on the bull starting to learn how to riding it! SMILE! Downloaded the e-books and read 25 pg. already from "Settle Your Debts" part. I will save all your e-mails now and put them in a special folder, too!*

* There's no guarantee of specific results. Results may vary.

Brindusa S.

Oceanside, California
"I'm so happy and proud, and house shopping soon."
I found your site 4 years ago and with your advice I cleaned my credit up completely and paid everyone in full. When I began I was 543, now I'm 758. I'm so happy and proud, and house shopping soon. Life couldn't be better, partially thanks to you for your wisdom. So glad I found you. Thank you.*

* There's no guarantee of specific results. Results may vary.

Demetrius

Baltimore, Maryland
"Honest and workable approach"
I must say this is the most honest, and "workable" approach I've seen to credit repair. I'll tell you what, my averaged credit score is a 560 right now because of some recent marriage/divorce issues. I'm going to put this plan into practice on my own credit file and I will keep you informed every step of the way.*

* There's no guarantee of specific results. Results may vary.

John V.

Blackwell, Oklahoma
"Priceless"
I was 1 of the first people to use your CSP when you had it available for free with the videos and PDF documents. Your information was a god send to me as I was going through a tough time financially and in June 2014 was notified by the IRS that I was a victim of Identity Theft. Your information and guidance helped me tremendously fighting off the CA's that were contacting me via phone 10X daily and the borage of Notices of Debt with the 30 days non-response= assumption of debt letters. I have an BS in Finance and a MBA from the University of Southern California, but nothing could have ever prepared me for the battles and ultimately the war over my credit score like your CSP did. I was able to use your sample letters, videos and moved my credit score from a combined average of 590 to 720 in less than 6 months... I have experienced the whole gambit from having a debt reinstated into my credit report after it had been removed by The Bankruptcy Court in 2003, to having the CRA's (Equifax) had my birth year incorrect which upon credit inquiries automatically got it denied and the legal hassle I had to get them to correct it, after 4 attempts. The entire process I learned from your CSP in dealing with these issues is priceless.*

* There's no guarantee of specific results. Results may vary.

Randall W.

Irvine, California
"Nothing Short of Amazing"
I would like to thank you.   Several years ago you placed your system online, and you had it available for free for the first xx people who viewed it. You emailed a link every week and we were able to preview the program. I was in a spot where I needed help, but was unable to follow the program at the time. What I got from the program that I remember has helped me tremendously. About a year ago, I started really working on my credit. My score was at the very bottom of the spectrum. I was showing a little over $44,000 in debt from medical bills, which were a large part not mine. Three student loans were listed doubly in my credit report, even though they were showing a zero balance, they were adding to a delinquent balance of around $20,000.   The results which I have acquired are nothing short of amazing. I am currently down from the $44,000 to a little over $6,000. I am still in dispute with around $2,400 and the remaining I either have started repayment or am in the process of getting them setup. I didn't get through all of the program that you had offered. I was watching the videos on a cell phone and it was not the best to try to learn everything from. I hope that soon I will be able to get the rest of your program and really put it all into play.   I just wanted to write and say thank you for your help. I look forward to updating you again in a few more months, and will explain how instrumental this information was to me in my life.*

* There's no guarantee of specific results. Results may vary.

Bradley N.

Pensacola, Florida
"I Actually Had A Lightbulb Moment"
Your information breaks it down so that there's an actual understanding of how the credit system is set up. I actually had a light bulb moment... No one tells you how the score comes about. We all hear: if you don't pay the bill, X can happen, and we know when a bankruptcy happens, this will happen, and it's on there for 10 years. Just another negative item, that's all the stuff that you know. But what I didn't realize about my credit card utilization, the more I used of it, the more desperate I looked to lenders. And that was my light bulb moment. I never knew what the cut-off point should be.*

* There's no guarantee of specific results. Results may vary.

Verna H.

Bethesda, Maryland
"I Have Learned How To Be More Responsible With My Credit And Finances"
I have learned the how to be more responsible with my credit and finances. In practicing your tools I have raised my credit score over 40 points over this year. Thank you for the wealth of knowledge you have shared with us.*

* There's no guarantee of specific results. Results may vary.

Minerva Larios

Rancho Cucamonga, California
"With your help I Went From Nothing To Something"
Years ago I started out with great credit and had a big blow out from family taking advantage of me and so forth to the point it ruined my credit totally. I pretty much gave up at that point and decided that I would never again be able to "finance" anything. Then I got your first post and I started reading and following intently. Low and behold, here I am around a year later and I have a great sports car, Credit Cards and at least a 650 credit score. With your help I went from nothing to something and it's just me getting started. Just like you said about a lot of things, one is about goals, I have a goal to jump up my score at least by 150 more points in the same amount of time it took me to get this far or even shorter. And it's all thanks to you Mike. The best I can do at this point is to wish you the best, thank you the most and offer this whole hearted virtual handshake of gratitude. Thank you so much for everything so far, right now and all to come…*

* There's no guarantee of specific results. Results may vary.

Wayne McDaniels

Morganton, North Carolina
"My Scores Have Climbed"
Thank you for all the information that you have provided. On June 1, 2014 my credit was very bad and I couldn't get any credit cards at all. My scores were in the 500's. I started off with a secured Capital One credit card, and from there I took a look at my reports and wrote letters. And today I'm proud to report that my scores have climbed to low 700's!! Thank you again.*

* There's no guarantee of specific results. Results may vary.

Michael Butler
The Credit Solution Program has been perfected by over 3 years of combined research and customer feedback. The result? Our one of a kind home study course to assist you in raising your credit score, getting out of debt, and living your life in financial health.
Ready to join us? Connect with our community of over 20,000 Facebook fans or sign up for our newsletter to get access to content on credit and other finance topics that over 1.2M subscribers trust.
Peer-reviewed research references
1. Federal Reserve Citation: Board of the Governors of the Federal Reserve System, "Report to the Congress on Credit Scoring and Its Effects on the Availability and Affordability of Credit," Page 133, August 2007
2. The Independent Review, "Credit-Information Reporting," Volume 5, Issue 3, Page 326, Winter 2001
3. The Journal of Consumer Affairs, "Credit Scoring and its Effects on the Availability and Affordability of Credit," Volume 43, Number 3, Page 516, Fall 2009
4. Federal Trade Commission, "Employment Background Checks," ftc.gov, February 2013
5. Federal Trade Commission, "How Credit Scores Affect the Price of Credit and Insurance," consumer.ftc.gov, September 2013