You Can Have The Answer To Living A Better More Financially Secure Life With Higher Credit...
"Improve Your Credit Score* with The Credit Solution Program
The Credit Solution Program Gives You 7 Powerful Learning Modules Organized by 3 Key Sections
The Credit Solution Program is designed to teach you the value of your credit score and provide you with the guidance you need to improve it. You'll start our program by learning the true cost of bad credit over your lifetime.
Then move on to understanding how your credit report works and what you can expect when you interact with lenders or credit bureaus. Next, you'll discover what steps to take to move toward a higher score.
Everything is organized clearly and easy to follow through from start to finish or jump to specific sections according to your specific needs.
Here's What to Expect From Each Module
Special Bonuses
A Complimentary Success Journal for a better learning experience
In this "how to" guide we walk you through our system for evaluating your credit report and getting focused on what you want out of the program. You'll learn how to apply our program to your specific needs.
Here's just some of what's included:
Email Coaching Series to insure that you take action on what you're learning
One thing we know to be true after hearing from 20,000+ students is that you'll get the best results when you actually follow through with the entire course. That's why we've added a special bonus called our "Getting Started Fast Track" email coaching sequence delivered over the first 30 days after your purchase.
This compliment to our our core curriculum will keep you moving forward with brief reminders delivered straight to your inbox. Each email will help you make some bite sized progress toward your goals.
Take Advantage of our 90-Day Guarantee and Experience the Power of the Credit Solution Program Today!
You only have one chance to live the best life possible. Why spend it worried about excessive debt and credit problems? Wouldn't you rather have a calm feeling of financial well-being?
The Credit Solution Program helps you to regain control over your finances, achieve a higher credit score, and live your life with financial peace.
With a bit of guidance from the Credit Solution Program you can begin to make some big changes in your life starting today and set yourself on the path to a brighter future.
But don't just take our word for it. Join over 20,000+ who've already begun their journey with the help of the Credit Solution Program. Order your copy to begin on your own path today.
Here's what you get when you order the Credit Solution Program:
In your package:
7 Modules organized to create a powerful credit action plan
A Success Journal to help you plan and practice what you learn
An unconditional 90-day Money Back Guarantee
Plus a CD with 6 bonus trainings ($97 value)
Building credit from scratch
Frequently asked questions
Divorce and your credit
Dealing with student loans
Dealing with judgments
Dealing with a tax lien
We train you on the
importance of credit.
Mike Roberts is the founder of the Credit Solution Program. He has seen how important understanding credit has been in improving his own life. And because of this Mike has dedicated himself to teaching others how to improve their lives by raising their credit score and taking control of their personal finances.
The Credit Solution Program is a unique system that aims to educate with engaging videos that are both informative and fun to watch. The content on the site and in CSP products is created by Mike Roberts and a team of subject matter experts.
We hope that you enjoy learning here.
Understand what factors affect your score
Do you know all the factors that go into calculating a credit score? When you understand the 5 factors that are used to determine your score, you are instantly able to begin working on each to improve your score.*
Most people with great credit have no idea how it got that way. So even if you have great credit already, this is a lesson you will not want to miss if you plan on keeping your credit high in the future.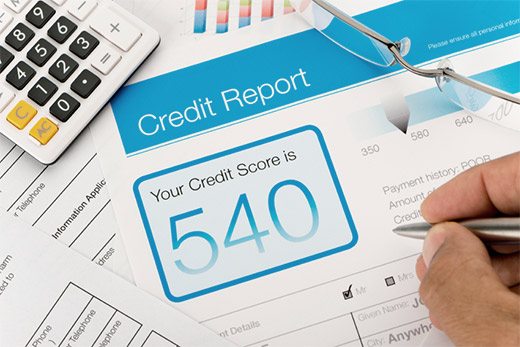 Learn to
interpret

your credit report

You will learn where to get your credit reports and scores online, and how to understand each section of your report.

We will walk you through an exercise to classify any negative items according to the CSP system. This provides the framework from which you will form a personalized action plan.

Many people are confused about how to understand each section of a credit report. It's no surprise really... did you know that if you have a lengthy credit history, your report can be over 20 pages long?

Understanding how to interpret all of this information about you is the first step toward improving it.
Regain control

over your finances

In the past 3 years, we have provided education to over 1.2 million people about credit and financial health topics. Over that time, we have received many tens of thousands of blog comments and support emails from visitors to this site. Because of this, we have an in depth understanding of the variety of problems that you may be facing with your credit.

Find out how to deal with late payments or accounts that have gone to collections. You will learn how to evaluate your options for any debts that you have outstanding, and how each choice may affect your credit score. You'll also learn what actions are the most important if you want to qualify for a loan in the near future.
Shape your actions to
keep your score up
It's frustrating to most people when they find out that just paying bills on time is not enough to insure that you will have an excellent credit rating. The credit scoring model is looking for a responsible use of credit, and while paying bills on time is a big part of that – it's not enough.
What is the proper way to structure your credit history going forward?
Yes, in order to have the highest possible score, you have to actually plan out a strategy that the credit scoring model views as low risk. This means having the right number of credit cards and mix of credit types. We'll show you how to use your credit effectively in order to score well.
You Don't Need to Decide Now... Try the Credit Solution Program Today and Take All the Time You Need for a Full 90 Days.
Then if you're not 100% satisfied, you can get a full refund within 90 days.
What are the Most Frequently Asked Questions About the Credit Solution Program?
Peer-reviewed research references
1. Federal Reserve Citation: Board of the Governors of the Federal Reserve System, "Report to the Congress on Credit Scoring and Its Effects on the Availability and Affordability of Credit," Page 133, August 2007
2. The Independent Review, "Credit-Information Reporting," Volume 5, Issue 3, Page 326, Winter 2001
3. The Journal of Consumer Affairs, "Credit Scoring and its Effects on the Availability and Affordability of Credit," Volume 43, Number 3, Page 516, Fall 2009
4. Federal Trade Commission, "Employment Background Checks," ftc.gov, February 2013
5. Federal Trade Commission, "How Credit Scores Affect the Price of Credit and Insurance," consumer.ftc.gov, September 2013