Credit cards are convenient but they can be an expensive way to pay for things if your interest rate is sky high and you carry a balance from month to month. Using a personal loan to consolidate your cards at a lower rate can help you save money and wipe out your debt faster.
Personal loans are offered by both traditional banks and online lenders and like a credit card, they're unsecured so you don't have to put up any collateral to qualify. Applying for a personal loan is easy and the whole process takes just a minute or two if you're doing it online. The inquiry won't affect your credit unless you decide to follow through and accept the loan.
A personal loan shows up on your credit report as an installment loan, which can actually help your credit score. If you have have credit cards with large balances or are maxed out, your debt utilization ratio will be very high. This ratio accounts for 35% of your credit score, so it can have a very big and very negative effect.
But, if you roll that credit card debt into a personal loan, your debt utilization ratio will go down and you will be adding a positive credit line to your reports in one simple step. You will also just have one payment every month, instead of having to juggle multiple creditors.
Choosing the right lender is key when you're shopping around for a personal loan and Avant is one of the companies that wants your business. Read on to what Avant has to offer borrowers.
Avant Highlights
Here's a brief rundown of Avant's pros and cons:
Pros:
Generous borrowing limit of up to $35,000
Fixed monthly payments for the life of the loan
Minimum credit score for approval is 580
Checking your rate won't hurt your credit
Instant pre-approval
Loan funds available within one business day if approved
Flexible repayment terms
Late fee forgiveness
Reports to Equifax, Experian and TransUnion
Cons:
Highest APR is 36%
Online only, no branches available
Late and returned payment fees apply
Approval is not guaranteed
Application and Approval
Applying for a loan with Avant starts with getting your online rate quote. To get the quote, you'll need to plug in your name, address, income information and Social Security number to check your rate. Checking your rate is considered a soft inquiry and your credit score won't be affected unless you actually move forward with a loan.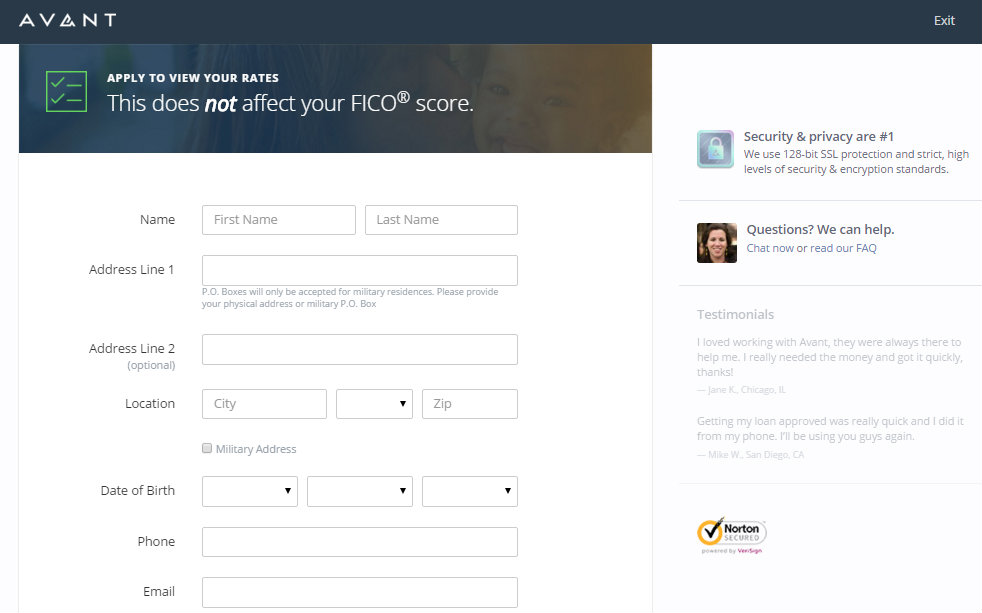 Once you've filled all this in, Avant quickly reviews your information and gives you a decision in less than a minute. If you're pre-approved, Avant will tell you how much you're eligible to borrow and give you a list of four loan term options with varying rates.
At this point, you can choose how long of a loan term you want and adjust the amount you want to borrow based on what you were pre-approved for.
Once you've settled on the details of the loan, the next step is filling out the loan agreement online. You may be asked to verify your income, assets, debt or identity so be prepared to provide copies of pay stubs, tax forms or credit card statements. Avant will do a hard check of your credit during the underwriting process if you decide to move forward.
Once the loan is funded and you've signed on the dotted line, Avant will transfer the money into your bank account electronically. Typically, loan funds are available as soon as the next business day.
How Much Can You Borrow?
Avant offers loans for as little as $1,000 or you can borrow as much as $35,000, depending on your credit score. That's a fairly broad range to work with, which is great if you've got a lot of credit card debt to consolidate.
Fees, Rates and Terms
The repayment period for an Avant loan can last between two and five years, but you have some flexibility in choosing how long you need to pay it back. If you're looking for something with a shorter term or longer term you'll likely need to look elsewhere.
The lowest interest rate Avant offers is 9.95% and you'll need a FICO score in the good to excellent range to lock in this kind of APR. At the higher end, rates max out at 36% for borrowers whose credit is at the lower end of the scale. That's more than what a credit card cash advance typically costs so you should consider that carefully when weighing your borrowing options.
Avant charges minimal fees for their loans. There's no cost to apply. There's also no prepayment penalty if you decide to knock the loan balance out ahead of your scheduled payoff date.
You will pay a $25 fee for late payments, but Avant offers late fee forgiveness after you make three consecutive payments on time.
Avant prefers to use electronic bank draft for payments. If you need to pay using a different method, you'll have to contact customer service to pay by phone or set up a check payment.
Avant and Your Credit
Avant reports your loan account activity to the three major credit reporting bureaus—Equifax, Experian and TransUnion. Again, it shows up as an installment loan so as long as you're making the payments on time each month and not charging up your credit cards again, you should see your score improve.
Your credit won't get dinged if you just get a rate quote, but if you decide to go forward and apply for a loan it will count as a new inquiry on your credit. Every new inquiry knocks a couple of points off your score which can be a disadvantage if you're not 100% sure you want to borrow from Avant.
You should also keep in mind that the late fee forgiveness Avant offers doesn't apply to your credit report. The fee itself is refunded but the negative mark will remain on your credit history, which could hurt your score as well.
Avant Referral Program
Avant offers borrowers a shot at earning rewards simply for telling others about their loan experience. Through the Avant Referral Rewards program, you can earn a $50 Amazon gift card when you refer a friend for a loan. Your friend also gets the same $50 once their loan is funded.
To get the reward, the person you refer must be approved for a loan and make their first payment. You can earn up to $550 in rewards each calendar year, which is a pretty sweet incentive to spread the word.
What Borrowers Are Saying
Avant is accredited by the Better Business Bureau's Chicago chapter. It currently has an A+ rating, and the most recent survey they took from their customers revealed that 94% of current Avant borrowers say they are either satisfied or extremely satisfied with their service.
The Bottom Line on Avant Personal Loans
Avant personal loans offer certain advantages but they're not going to be right for everyone. To recap, the best features of the loans are:
Higher borrowing limits
Minimal fees
Low rates if you have good credit
Perfect credit not required
Flexible repayment terms
Quick approval and loan funding
The biggest downside of getting a loan through Avant is the potential to get hit with a high interest rate. Someone with a stellar credit score may be able to get a lower rate through a bank or another online lender.
All in all, Avant is better suited towards borrowers who have average credit and need a convenient option for consolidating their credit card debt. Comparing your Avant rate quote to rates from other lenders can help you decide if it's the best fit.