When you're knee-deep in credit card debt and paying big bucks in interest, digging your way out of the mess can seem impossible.
Taking out a personal loan to consolidate your cards is a smart move if you want to snag a lower APR and have just one payment to deal with each month. You can apply for a personal loan online and get pre-approved in as little as 60 seconds without hurting your credit score.
In fact, consolidating your debt with a personal loan can actually help your credit. Instead of having several maxed out credit cards, you'll have a single installment loan. That lowers your credit utilization ratio which can boost your score in the process.
If you're ready to combine your high interest credit cards, the first step is finding the right lender. You could go through a traditional bank but online peer to peer lenders like Prosper have a lot to offer. Take a look at our in-depth guide to getting a personal loan through Prosper  to decide if it's the best fit for your borrowing needs.
Prosper Highlights
Here's a quick guide to Prosper's pros and cons:
Pros:
Borrowing limits up to $35,000
5.99% APR for qualified borrowers
Fixed rate for the life of the loan
No application fee
No prepayment penalty
3 and 5-year loan terms
Minimum FICO score required for approval is 640
Cons:
Maximum APR is 36%
Loan closing fee of 1 to 5%
Loan funding isn't guaranteed
Lengthy underwriting and approval process
How Prosper Works
Prosper is a peer-to-peer lender that offers unsecured personal loans funded by individual investors. To get a loan, you put a listing on the site describing how much you want to borrow and what you need the money for. Investors look at the different loan listings and decide which ones they want to fund.
Once the loan is funded you have to go through Prosper's verification and underwriting process before you can get the money. After the loan funds are released you'll make one payment to Prosper each month with interest. The payment is divvied up among the individual investors who ponied up money for the loan.
Prosper loans are issued through WebBank, a Utah-chartered Industrial Bank. WebBank is an FDIC member, which means you have the same account protections as you would if you were borrowing from a traditional bank.
Who Can Get a Loan Through Prosper?
To apply for a Prosper loan you have to be at least 18 and a U.S. citizen. You also have to live in a state where Prosper loans are available. Currently, Iowa, Maine and North Dakota are excluded from that list.
All applicants must have a bank account and a minimum credit score of 640 (Prosper uses Experian to check credit scores). The initial rate check only counts as a soft inquiry and won't affect your credit, but if you apply for a loan and it's funded, a hard inquiry will show up on your credit report. Prosper also assigns borrowers a risk rating based on its internal credit scoring system.
Applying for a Loan
The first step in getting a Prosper loan is checking your rate. To get started, you just fill in the amount you want to borrow, what you want to use the loan for and your estimated credit score range on Prosper's online form.
From there, you'll enter your name, address, date of birth, employment status, income and Social Security number. You'll also need to provide an email address and password to create a Prosper account.
Prosper analyzes your information and gives you a rundown of loan terms and rates you qualify for. From there, you can set up a listing for the loan. Listings stay active for 14 days and investors have to chip in at least 70% of the amount you're requesting for you to get any money. If the loan isn't funded to at least the 70% mark the listing is cancelled and you'll have to start all over again with a new one.
Once you reach the stage where your loan listing is fully funded, the next step is loan verification. This is a three-stage process that Prosper uses to verify your identity and your financial information before releasing the loan proceeds to you. At this point, you'll have to submit any documentation that Prosper requests, including tax form, pay stubs or copies of your ID.
After the verification and loan review are complete, you'll be able to get your hands on the loan money. This usually takes about 1 to 2 additional days and funds are deposited into your bank account electronically.
How Much Can You Borrow?
Prosper helps with funding loans ranging from $2,000 to $35,000. The maximum amount you're allowed to borrow is based on your Prosper rating. All Prosper loans are unsecured so you don't need to put up any collateral to qualify.
Loan Rates, Fees and Terms
Prosper loans come with interest rates ranging from 5.99% to 36% and the rate is fixed which means it stays the same for the life of the loan. You'll need a great credit score to qualify for the lowest rate. You can choose a loan term of either 3 or 5 years.
There's no application fee but you will pay a fee at closing, which ranges from 1% to 5%, based on how much you borrow and the length of your loan term. The closing fee is taken out of your loan proceeds so you'll need to factor that in when you're deciding how much to borrow.
It won't cost you anything to list your loan request and there's no prepayment penalty for paying ahead. There is a $15 returned payment fee if your payment transaction bounces. There's also a late fee that amounts to either 5% of the payment due or $15, whichever is greater.
Loan Payment Options
When you qualify for a loan, your default payment method is set as an automatic bank draft each month. Prosper sends out an email reminder that your payment is coming up a week in advance. Once your due date is set, it can't be changed.
To pay extra or pay ahead of the due date, you'd have to log in to the Prosper website and set up the payment manually. When you make a loan payment, the money is applied to any late or failed payment fees first, the interest second and the principal third.
You can also pay by phone or send in a check but it'll cost you extra. Prosper tacks on a $15 processing fee for these kinds of payments.
Prosper's Rating System
Every borrow is assigned a Prosper rating when they list a loan and this score ranges from 1 to 11. A score of 11 means you're at the least risk of defaulting on your loan while a score of 1 indicates the highest risk. Prosper's rating system determines what kind of rates you'll qualify for if your loan is funded.
The Prosper score is based on the same kinds of factors that are used to calculate your FICO score. That includes your credit utilization or how much of your available credit you're using, the number of delinquent accounts you have on your credit report and the number of inquiries you have for new credit.
Taken together, your credit score and your Prosper score are used to determine your Prosper rating. This rating effectively tells investors who are looking to fund loans how much they could potentially lose on their investment if you fall to pay back what you borrow. A rating of "AA" is the best while a rating of "HR" means highest risk.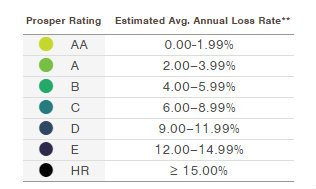 Your Prosper rating also determines what kind of interest rate you'll qualify for. Prosper offers loan rates as low as 5.99% and they max out at 36%. This table lists the rates and APRs for each rating based on loan term.
What Borrowers Are Saying
Prosper has been accredited through the San Francisco chapter of the Better Business Bureau since 2012. It currently has an A+ rating and some of the things that contribute to its high rating include the length of time the company has been in operating, the number of complaints filed relative to the size of the business and the resolution of these complaints.
Eighty percent of the consumer reviews listed on Prosper's BBB page were positive, with borrowers praising how straightforward and simple the borrowing process was. Overall, Prosper earned 4.74 stars out of 5 from the BBB based on consumer reviews and its A+ standing.
The Bottom Line on Prosper Personal Loans
Getting a loan through Prosper has some advantages, particularly if your credit isn't perfect. Even if you have the lowest Prosper rating, it's still possible to get funding because you're dealing with individual investors who may be comfortable taking on more risk than a bank would.
To recap, some of Prosper's best features include:
Higher lending limits
5.99% starting APRNo application fee
Perfect credit isn't required
In terms of the disadvantages, the biggest one is the maximum 36% APR that the highest risk borrowers will get stuck with. If you took out a $10,000 loan for three years at a 36% rate, the interest would cost you close to $6,500. If you're trying to consolidate high interest credit cards that may not be the best deal.
The 1% to 5% closing fee is also another consideration. A lot of online lenders don't charge any origination or closing fees at all. If you're borrowing a substantial amount already the closing fee is just increasing what you owe.
One last thing to keep in mind about Prosper is that it takes time to go through the process. Loan listings can stay active for up to 14 days and there's no guarantee that your request will be funded right away. Once it's funded, you still have to wait out the loan review and verification process before Prosper releases the money to you. If you need cash quickly, this isn't the way to go.
Prosper has a good reputation among peer to peer lenders for providing loans to borrowers who have less than perfect credit. Between the interest rates and the closing fee, the cost of borrowing may be a little higher but it's definitely an alternative worth considering if you can't find a bank that's willing to give you a loan.